Timeless, traditional and exotic designs
These lamps are made by Vietnamese artisans whose tradition goes back more than 500 years. Handmade and stretched with silk, the lamps are very suitable to decorate a room.
During my trip around the world I came across a special place in Vietnam, namely Hoi An. This place is known for its many lanterns. These silk-covered lanterns illuminate the many restaurants and shops along the water, which gives a beautiful mystical atmosphere in the evening.
Vietnamese lamps from Hoi An
– Several shapes and 12 different colours
– All the silk lamps you see are in stock
– Within 4 working days delivered across Europe
– Since 2010 your reliable partner 
Our lamps are handmade in Hanoi, in our own workshop. The material we use is 100% natural Vietnamese silk (silkworm natural silk is very famous in Asia). The silk has beautiful colors and features Asian symbols. All lamps are handmade with natural materials such as bamboo, silk and wood.
Now you can evoke this beautiful mystical atmosphere in your own living room, garden, balcony, etc. To view the various shapes and colours, continue to the lamps.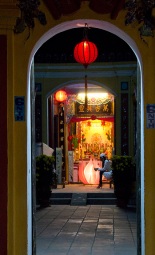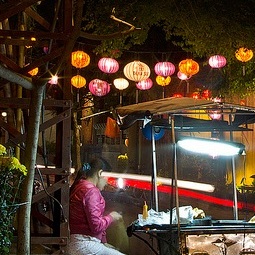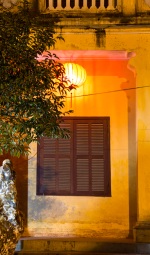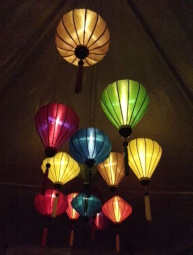 Our beautiful silk lamps are great for decoration.